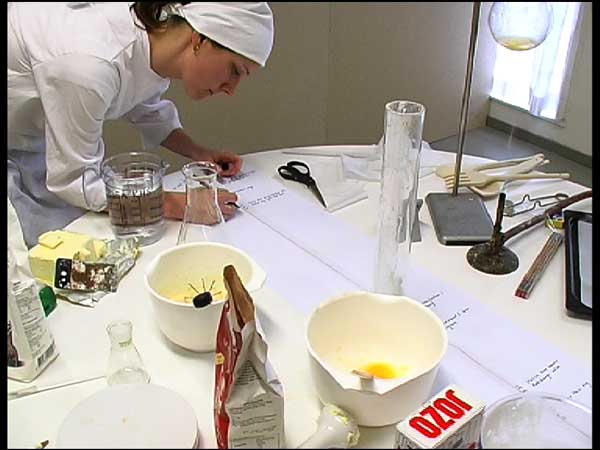 THE PRODUCTION OF DREAMS OF THE INDIFFERENT GENERATION (2002)
DVD video loop 15 min
picture format: PAL 4:3
sound:stereo
(Dreams is also the name of the most popular Swedish cookie)
An installation where the activity, which is a mixture of a scientific experiment and a process of
baking, is video taped with a camera that moves around the table, one circle per minute. The
experiment/baking is directed by a timeline with noted years of "important" Swedish historical
events. In the baking process each year corresponds to the minutes of the clock. Each minute a
reading of the experiment is done, for example: at "16:03" a 28 cm long spoon is 12 cm down in
a bag with flour". The "result" is noted on the timeline next to the year 1603 with the
information that Maria Stuart's son Jacob the First succeeded the throne. The video (15 min loop)
was shown at the table with the remains from the experiment /baking.