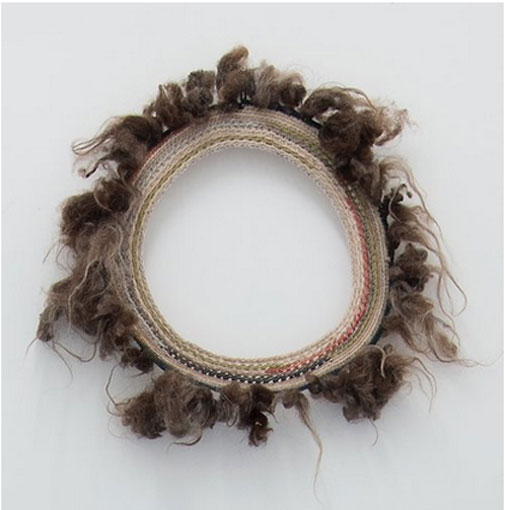 Ring of Fire, woll from my own sheep and leftover yarn, 2019
Current und upcomings
Jan – dec 2021
Workshopserie "Hur mår modet?" i samband med Hallands utställningar under modeåret 2021.
Nov 2020 – sep 2021
Tar del i projektet "Mixed Minds" i regi av Region Halland samt Region Västergötland
Våren – sommaren 2021
Konstnärlig ledare, tillsammans med Daniel Segerberg, för projektet KonstNära – ett landsbygdsprojekt.
17 – 31.7.2021
Årsta Konsthall, grupputställning
2.2.2020
"Mäktiga maskan", på Viserums Konsthall.
7.12.2019
"Nytt från gammalt". Workshop (kl 10-15) i samband med utställningen Leviathan av Daniel Segerberg på Ronneby Konsthall.
Återanvänd bortsorterade prylar från hemmet och skapa din alldeles egna julklapp. Var kreativ och skippa överflödskonsumtionen tillsammans med rörelsen Back in Position. Workshop i konsthallen i samband med JulKul i Kulturkvarteren 2019.
"Neu of old", Workshop at Ronneby Art centre: Reuse sortet gadgets from home and create your very own Christmas gift. Be creative and skip the abundance consumtion along with the movement Back in Position.
21.9.2019
"Skördetid i Halland". Tröska bovete på Färjås andelsjordbruk
("Harvest-time in Halland". Threshing buckwheat at Färjås Färjås Community Supported Agriculture), Sweden
14.9.2019
Workshop: Gör-det-själv – syrad pumpa (Do it yourself- Fermented Pumkin)
på Kungsbacka Höstfest (Kungsbacka Autumn Feast).
Action with Back in Position, Sweden
31.8 – 29.9.2019
Grupputställning, Arnstedt ÖstraKarup, Sweden
3.11.2018
"1000 Laternen für unsere Umwelt" (1000 Lanterns for our Enwironment)
Action with Back in Position, in Markthalle Neun, Berlin
1.9 – 23.9.2018
Soloutställning, Arnstedt Östra Karup, Sweden
12.5.2018
In "Pflanzzeit 2018", Action with Back in Position, in Markthalle neun, Berlin
https://markthalleneun.de/veranstaltungen/440/2018/5/12/upcycling-aktion-von-back-in-position