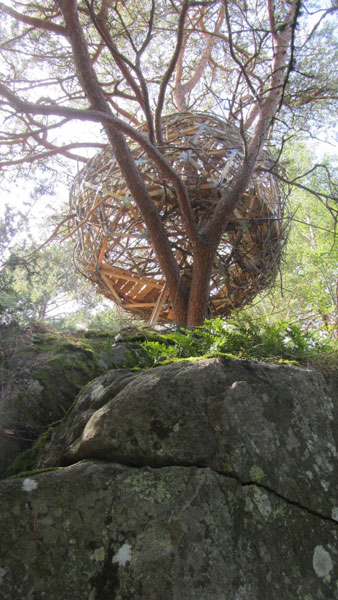 THE NEST (2017)
In collaboration with Daniel Segerberg for the project (X)sites Kattegattleden
Welcome to the Nest! Here you can contemplate nature from a new perspective.
Up in a pine tree on a hill slope near by Prosten Cullberg's road, Särö, Sweden,
we have built a spherical treehouse.
The geometrical sphere that forms the framework of the nest is constructed out of found
material from the city (slats of wooden bed frames, chair legs, curtain rods, etc). The
construction is hanging in the branches of the tree and has been camouflaged with found
twigs from the forest.
Together with residents in the immediate area, Färjås Yogaretreats and Släp´s choir,
the nest took shape in a joint action collecting twigs and interlacing them into the nest.
Inside the nest you find platforms to sit down on or you can use the natural branches of
the tree to sit on. Here is the opportunity for the visitor to have a picnic, contemplate and
enjoy the view.
Perhaps your thoughts drift away…. and the nest can serve as a model for alternative
housing, a utopian vision of living in symbiosis with nature among the trees, like
the Baron in the Trees in Italo Calvinos classic novel.
More info about (x)Sites at www.landart.se